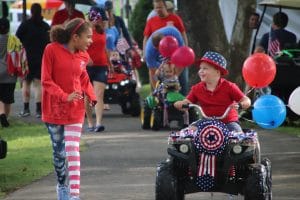 Calvert City, KY (June 9, 2021) – Calvert City plans to celebrate its sesquicentennial on July 1-4. 150 Calvert City is supported by the City of Calvert City, Calvert Area Development Association, and generous contributions of Calvert City residents, businesses, and organizations.
"From a railroad depot to a nationally recognized city for industry, Calvert City has come a long way since 1871 and it's time to celebrate," said Blair Travis, Calvert City's director of marketing, communications, and business development.
To celebrate Calvert City's sesquicentennial is to rightfully honor the changemakers who shaped our city's future and to admire our resident's and business owner's grit and determination of continued progress.
The events of 150 Calvert City Ameribration will include live music with special performances by Rhonda Vincent and the Rage (July 3) and Jeffrey Steele (July 2). Also included in the 3-day festival will be a city museum, a golf scramble, Veterans Brunch, carnival, inflatables, arts & crafts, petting zoo, diaper derby, cornhole tournament, three on three basketball tournament, and food trucks.
At Calvert City's Centennial in 1971, volunteers planned an Old Fashion Fiddler's Contest and a World-Class Beard Contest. These events were very popular 50 years ago and we're bringing them back! The Old Fashion Fiddler's contest is open to the public with cash prizes on July 4. The World-Class Beard Contest is open to the public with cash prizes and will be held on July 3.
Safety is our number one priority. All events will follow the latest protocols issued by the Center for Disease Control and Prevention.
To find out more, visit 150calvertcity.com.
Download the full schedule of events here!
Download the 150 Calvert City insert in Vue Magazine here!