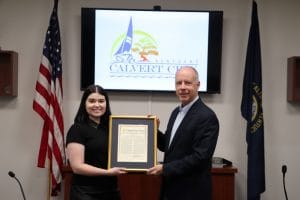 CALVERT CITY (August 17) – A resolution honoring Calvert City was read into the Congressional Record on June 23 by Senator Mitch McConnell. Local field representative Morgan Alvey presented the Congressional Record to Calvert City's Mayor Gene Colburn commemorating the 150th anniversary of the 1871 incorporation of Calvert City on August 17.
The Congressional Record is the official record of the United States Congress and publishes any meetings, debates, and other official proceedings that take place on the House of Representatives and Senate floors.
The gesture is a highlight to Calvert City's sesquicentennial year-long celebration. "Calvert City's legacy is now recorded, not only in local history but also now on a national scale," said Colburn.
"Our goal for 2021 has been to recognize some of the many extraordinary people who have helped positively shape this city. It is an honor being recognized by Congress for 150 years of incorporation," said Blair Travis, Calvert City's director of marketing and business development.
To learn more about the history of Calvert City, upcoming events, and further news, visit https://calvertcityky.gov .