Calvert City, KY (October 23, 2019) – Approximately $5.4 million in improvements were announced by tourism officials at Kentucky Dam Village State Resort Park as part of the state's "Restoring the Finest" initiative on October 23.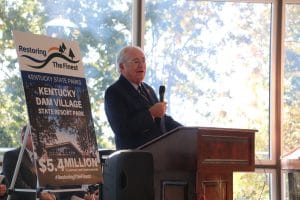 The initiative is a statewide effort to make infrastructure repairs and safety improvements across the Kentucky State Parks system.
The funding for Kentucky Dam Village will include an upgraded sewer system, new roofs for the executive cottages and hospitality upgrades for lodge rooms – mostly new furniture.
"We are thrilled to make this significant investment in Kentucky Dam Village to ensure a quality experience for our guests," said Tourism, Arts and Heritage Secretary Don Parkinson. "We appreciate the continued support of Kentucky State Parks from Gov. Bevin and members of the General Assembly."
Kentucky State parks received $18 million and $20 million in added funding as part of the "Refreshing the Finest" campaign in 2016-2018. Gov. Bevin and lawmakers approved a $50 million bond issue for the campaign for 2019 at the General Assembly.
"At the start of this administration our state parks were facing $240 million in deferred maintenance," Parks Deputy Commissioner John Kingston said. "This funding allows us to make much-needed repairs and improvements for the parks and continue contributing to the tourism economy across Kentucky."
Kentucky Dam Village State Resort Park is a staple in Calvert City. It provides convenient and affordable lodging, conference center, cottages, a campground, hiking trails, a golf course, beach, and marina. This is great news for Kentucky Dam Village and great news for Calvert City.