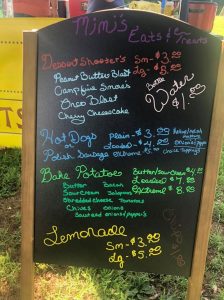 Calvert City, KY (July 7, 2020) – Calvert City Food Truck Friday started July 3 with a bang. Food Trucks lined the multi-use trail in Memorial Park while residents chose their favorite food truck for lunch.
Calvert City started Food Truck Friday in 2019. It runs every Friday in the summer during lunchtime. Due to the recent pandemic, Food Truck Friday postponed its original start date in May to July 3. July – August is from 11 AM – 2 PM. Friday's in September and October will be held in the evening from 4:00 PM – 7:00 PM in Memorial Park.
"Over the last three years, food trucks have become common in Calvert City. The struggle to find a place in the City was difficult. This event gives food trucks the opportunity to safely park their trucks in a high-trafficked area during our busy lunch hours," says Blair Travis, director of marketing and business development for Calvert City.
Menus are posted weekly on the Calvert City Facebook page. There is no charge to set up a food truck or food tent. If electricity is requested there is a $10 charge each Friday. If you are interested in setting up or even selling food for a fundraiser, call (270) 395-7138.
Follow Calvert City on Facebook or visit calvertcity.com for more information on upcoming events in Calvert City.