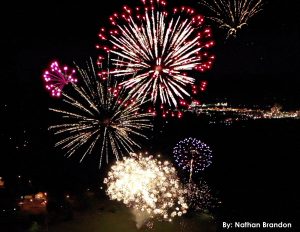 Calvert City, KY (June 25, 2021) – The annual Calvert City Ameribration is set to return for 2021 after the COVID-19 pandemic grounded last year's celebration.
2021 is Calvert City's Sesquicentennial Year and the event is slated to take place over three days during the Fourth of July holiday weekend.
The events of 150 Calvert City Ameribration will include live music with special performances by Rhonda Vincent and the Rage (July 3) and Jeffrey Steele (July 2). Also included in the 3-day festival will be a city museum, a golf scramble, Veterans Brunch, carnival, inflatables, arts & crafts, petting zoo, diaper derby, cornhole tournament, three on three basketball tournament, beard contest, fiddler's contest, and food trucks.
To end the festival, on July 4, Calvert City along with Calvert Area Development Association will host the Ameribration Parade and end the evening with fireworks.
This year the fireworks show is named after long-time fire chief, Ed Rendleman. Rendleman pushed for many years to bring fireworks to Calvert City and now the show is a standing tradition for the town.
The Ameribration Parade begins on July 4 at 6:00 PM on 5th Ave. The parade lineup is at 4:45 PM at Pathway Baptist Church. There is no registration for the parade. Organizers ask that floats be in line by 4:45 PM to participate.
The Ed Rendleman Fireworks Show will take place at Dusk in Doctor's Park on July 4. Please be observant and adhere to the signage when choosing your viewing location.
To find out more, visit 150calvertcity.com.