Calvert City, KY (March 8, 2021) – Calvert City's Youth Voice is a monthly writing contest developed for young authors between the age of 5 and 18. March 5 was the first deadline for the monthly writing contest and the winner for March is DJ Stover of Calvert City.
Calvert Area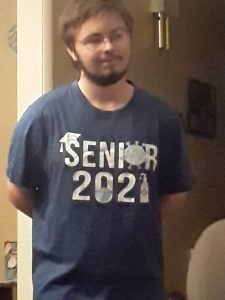 Development Association used a rubric judging system to choose the March winner. Judges received the submissions with just the writings. They did not know how old the author was or where they were located.
Stover is originally from Elizabethtown, KY. Moving to Marshall County in the summer of 2016, Stover became involved in choir and in a church worship band. Stover enjoys writing, singing, and listening to music. "I have about 10-15 books I've started (writing) and many more," said Stover. He is a senior at Marshall County High School and his favorite teacher is Ms. Mathis.
The next deadline for the monthly writing contest is April 1. Young writers are encouraged to submit original work in any style of creative writing. One winner will be awarded monthly.
Monthly winners will receive $50 and an ad in the Lake News with their published work. The deadline to submit work will be on the 5th of each month. This contest is not limited to Calvert City residents. We encourage writers from across the region to submit their original work.
For more information on Calvert City's Youth Voice, please call City Hall at 270-395-7138 or by email at info@calvertcityky.gov.
_________________________________________________________________________________________
Never Forget
By DJ Stover
I could hear the screaming
I could hear the pain
The fear in those eyes
And how they ran away
Pushing, shoving, screaming
Are words to describe it
But you don't know what's happening, what's going on
Until you actually lived it
We will always remember
We will never forget
The tragedy that took place
On this very fateful day
But, that cannot destroy us
That can't knock us down
We will rise up as one until this fight has been won
Let us pull each other closer
Let us hold each other tight
Let's cherish the moments together
We will never forget
You never think it's gonna happen till it happens to you
You don't know what's going through our minds, why don't you take a walk in our shoes
See the horror before us
See it all unfold
You don't know when it's the last goodbye
Or the last breath you take
You don't know
Oh, You don't know
We will always remember
We will never forget
The tragedy that took place
On this very fateful day
But, that cannot destroy us
That can't knock us down
We will rise up as one until this fight has been won
Let us pull each other closer
Let us hold each other tight
Let's cherish the moments together
We will never forget
We will always remember (we will never forget)
We will always stay strong
Until this battle has been won
We will always remember
(We will never forget)
We will always stay strong
Until this battle has been won
We will always remember
(We will never forget)
We will always stay strong
Until this battle has been won
We will always remember
We will never forget
The tragedy that took place
On this very fateful day
But, that cannot destroy us
That can't knock us down
We will rise up as one until this fight has been won
Let us pull each other closer
Let us hold each other tight
Let's cherish the moments together
We will never forget