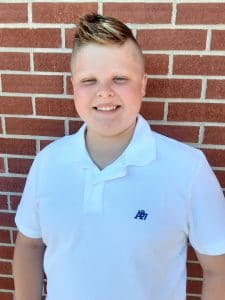 Calvert City, KY (September 3, 2021) – Calvert City's Youth Voice is a monthly writing contest developed for young authors between the age of 5 and 18. September 1 was the recent deadline for the monthly writing contest and the winner for September is Gunner Clark.
Calvert Area Development Association used a rubric judging system to choose the August winner. Judges received the submissions with just the writings. They did not know how old the author was or where they were located.
Gunner Clark is from Benton, Kentucky, and enjoys playing disc golf, hunting, and fishing. He is 12 years old and his favorite class is S.T.E.A.M. His favorite teacher is Mrs. Chasity. He attends Jonathon Elementary School.
The next deadline for the monthly writing contest is October 1. Young writers are encouraged to submit original work in any style of creative writing. One winner will be awarded monthly.
Monthly winners will receive $50 and an ad in the Lake News with their published work. The deadline to submit work will be on the first of each month. This contest is not limited to Calvert City residents. We encourage writers from across the region to submit their original work.
For more information on Calvert City's Youth Voice, please call City Hall at 270-395-7138 or by email at info@calvertcityky.gov.
___________________________________________________________
THE SCRIBBLE
BY GUNNER CLARK
Hello, my name is Alex Harp, I live in an apartment in New York. If you know me you would know that I love books, I probably read four chapter books a day. One day I was reading a big chapter book and heard something outside, so I went to check what it was. It was a notepad and a pencil. I thought this wasn't just a coincidence I needed to start writing books.
I came back on that day and I'm pretty sure it went like this. I sat down at my desk thinking and thinking about something to write. Until finally it hit me. I should start easy and do a biography. So I put the pencil down but this force didn't let me write. It almost wrote itself. It started moving around making circles and lines and I don't know what. Finally, it stopped. I didn't know what to do. So I threw it out in the trash but when I got back to my desk it was there.
I stood back in shock not knowing what to do. That whole day everywhere I went it was there. I went to bed that night trying to not think about it, but I couldn't stop. When I woke up and went to the kitchen it didn't follow me. In fact, I didn't see it all day that day.
I felt relieved, but when I got back to my room after school it was on my bed but the paper with the scribble was torn off. For some reason, I felt like if I didn't find it, something bad was going to happen. I looked and looked, but didn't find anything.
When I took a shower that night, I looked in the mirror and the notepad was printed like a tattoo on my arm, but it wasn't a scribble, it was words. I tried my best to read it. It said, "I love you so much and hope you and your father are doing good," signed Mom. I was freaked out because my mom died three years ago in a car accident. I kept thinking how in the world was this possible? I thought somehow my mom died but the spirit is still living, but that was nonsense. Then a week later the same thing happened and the next week and the next. Finally, I remembered what month it was. It's my Mother's birthday month. Today would be her birthday.
I was so excited for her to write again, but nothing happened. Finally, right before I went to bed, my tattoo started changing again. It said, "Hey son I'm so sorry for what I'm about to tell you, but I'm going to say it anyway I…". I never got another note from there on, my brain said it was for my own good, but my gut said I needed to know! So I found out and that's another story.