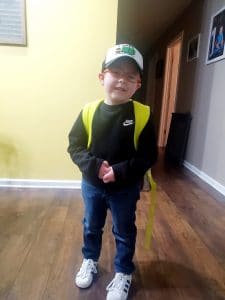 Meet Harrison. Harrison lives in Calvert City and attends Calvert City Elementary. He is five years old and was diagnosed with Prader-Willi Syndrome at four weeks old. He has a dog named Stryker and a brother named Paxton. Harrison loves to color, do arts and crafts and eat pancakes.
His life is a little different than other kids his age. Prader-Willi Syndrome is often referred to as a broad-spectrum syndrome, exhibiting many different symptoms and challenges. It is a life-threatening disorder affecting hormones, muscle strength, cognition and learning, pain tolerance, sleep patterns, temperature regulation, behavior, and appetite.
His parents, Jared and Danielle Thweatt teamed up with Calvert Area Development Association to host One Small Step to bring awareness to Prader-Willi Syndrome as well as the entire special needs community. His parents are in constant worry about Harrison's quality of life. "Is he doing good in school? Does he have friends? Is he getting enough therapy? Will he ever be able to communicate with anyone outside his normal circle?" These questions haunt the Thweatt family daily.
Prader-Willi Syndrome is the #1 genetic cause of life-threatening childhood obesity. The mission for this event is to raise awareness of the syndrome and the challenges these children face. "Some days are pretty normal for Harrison; some days are very difficult. He goes to school, he loves garbage trucks and his favorite activity is to pick up trash after dinner which is why we chose the garbage truck to be apart of our event," said Danielle
Originally scheduled for May 2, this event has been postponed. Please join the Thweatt Family and Calvert Area Development Association for a Family Fun Walk on October 3 at 10:00 AM in Memorial Park to coincide with our annual Fall Fun Fest. This is a 1-mile walk and the entire family is invited to participate. Registration is $10 and early registers will receive a t-shirt. To register for the walk, click here.
Get your team of 12 signed up for the Garbage Truck Pull too! Teams must raise a minimum of $100 to participate. Teams take their turn to see who can pull the Calvert City garbage truck 12 feet in the shortest time. The Garbage Truck Pull will begin at 12:00 PM. To register for the Garbage Truck Pull, click here.
Food and drinks will be available for purchase as well as a silent auction. Bring your team spirit and support this fun-filled event to raise awareness for Prader-Willi syndrome. All donations raised for the event will support life-changing research so that one day, everyone living with Prader-Willi Syndrome will lead full and independent lives.
For more information, call (270) 395-7138 or e-mail info@calvertcityky.gov.