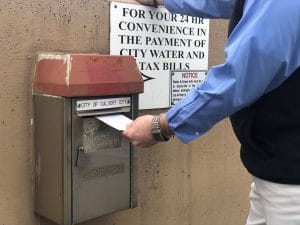 To continue efforts to slow the spread of COVID-19, Calvert City officials are closing City Hall, Civic Center, Fire Training Center, and all other city offices to the public through the end of the month.
The closure takes effect on Tuesday, March 17 and will go until at least March 31 pending further direction from Mayor Lynn Jones.
The city is taking the necessary steps to protect the community and follow safety recommendations. Mayor Lynn Jones encourages residents to use good judgment, be careful, and stay safe. "I'm pulling for you," said Jones.
City staff will continue to serve the public and conduct city business during normal business hours via phone, email and online. Residents can pay taxes and water bills through the drop box located in front of City Hall. Others who have business with the city are asked to do it over the phone or by e-mail. Public Works will continue with waste pick up as scheduled.
To reach City Hall, please call (270) 395-7138 or email info@calvertcityky.gov. To reach the Calvert City Police Department for a non-emergency, please call (270) 395-4545 or email police@calvertcityky.gov.