We are excited to announce that Calvert City is one of 15 communities across the region that was selected to the inaugural cohort of the Tennessee RiverTowns Program.
Ten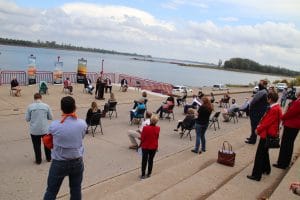 nessee River communities are the beating heart of the Tennessee River and Calvert City's relationship with the river runs deep. We're excited to be a part of this program and look forward to improving the quality of life, improve access to the river experience, and improve the health and stewardship of our natural resources.
Paducah – McCracken County was selected as a RiverTown with Calvert City. We are the only Kentucky communities in the Program.
Each of the two communities is beginning its journey in becoming an official Tennessee RiverTown and part of the Tennessee RiverLine, North America's next great regional trail system incorporating a continuous system of paddling, hiking, and biking experiences along the Tennessee River's 652-mile reach.