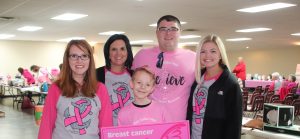 Calvert City, KY (September 20, 2021) – The annual Calvert City Pink Walk is scheduled for October 16 at Memorial Park beginning at 9:00 AM. Gather a small group of family and friends and walk through the park remembering those lives lost while celebrating the survivors of cancer.
October is Breast Cancer awareness month, an annual campaign to increase awareness of the disease. The Pink Walk is much more than breast cancer. "Calvert City Pink Walk is a staple event for many in our community. It's a time we can come together and lift up those fighting the fight, recognize survivors, and remember those we lost," said Blair Travis, director of marketing, communications, and business development for Calvert City.
The event will begin by recognizing survivors in our region. Those attending will have the opportunity to bid on silent auction items donated by local businesses and the proceeds raised during the Pink Walk will be donated to Kentucky CancerLink.
Calvert City resident, Carol Capps, was a breast cancer survivor. She experienced firsthand the importance of screenings and over 10 years ago planned the first Calvert City Pink Walk. She wanted to bring awareness to our community about the importance of early detection and educating women on what they can do to be proactive with their breast health.
The mission of Kentucky CancerLink is to reduce the barriers to screening, diagnosis, and treatment of cancer. Funds donated will go right back into our region to remove those barriers faced with a cancer diagnosis and early education in detection screening. Founder and Executive Director, Vicki Blevins-Booth was inspired by Dr. Harold P. Freeman and his vision for patient navigation in oncology. As the owner of VDK Turning Point, Vicki had seen and heard about the barriers faced with a cancer diagnosis and the need for education for early detection in screening.
Initially sponsored by the Kentucky Breast Cancer Coalition, Ms. Blevins-Booth received her first grant from Susan G. Komen, Lexington Affiliate in April of 2008 and quickly obtained her own 501c3 status.
In 2014, after hearing the voices and seeing the need for assistance in other cancers, the board voted to expand the mission.  In April of 2014, Kentucky CancerLink was officially launched with the expanded mission to remove barriers to Kentuckians so they can receive all evidence-based cancer screenings and support those diagnosed with cancer.
About 1 in 8 women will develop invasive breast cancer over the course of their lifetime. In 2021, an estimated 281,550 new cases of invasive breast cancer are expected to be diagnosed in women in the U.S., along with 49,290 new cases of non-invasive breast cancer.
T-shirts and sweatshirts will be for sale at the event in addition to the silent auction. If you would like to recognize a loved one "in memory of" or "in honor of" forms are available at calvertcityky.gov for $5 per luminary sign.
The health and well-being of those in attendance are our number one priority. All CDC guidelines will be followed during the outdoor event.
Each year nearly all walkers have been touched by a breast cancer diagnosis – a mom, a dad, a best friend, a wife, or themselves – in an instant their lives were changed. But uniting turns that journey into a force for good.
On October 16, we invite you to join us to support one another, share stories, raise money, and save lives. Take photos at the many photo opportunities along the .5-mile walk. Using social media, share your photos, post check-ins while using #calvertcitypinkwalk. There is no registration for this event.
For more information about t-shirts, luminary signs, or ways to be involved, email info@calvertcityky.gov, visit calvertcityky.gov or call Calvert City Hall at (270)395-7138.
For additional information about Kentucky CancerLink visit https://kycancerlink.org.
Click here to download the Sign Order Form.
Click here to download the t-shirt order form. 
For more information, please email info@calvertcityky.gov or call (270) 395-7138.