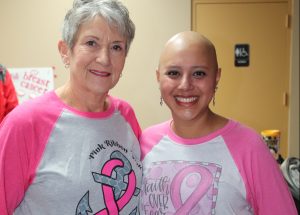 Calvert City, KY – The annual Calvert City Pink Walk is scheduled for October 17 at Memorial Park. However, it might look a little different this year. We know cancer is no walk in the park, but let's take a walk anyway!
"We're looking to have an engaging event whether virtual or in person. The Calvert City Pink Walk is a staple event for many in our community. It's a time we can come together and lift up those fighting the fight, recognize survivors, and remember those we lost. This year, we will just have to lift each other up in smaller groups," said Blair Travis, director of marketing, communications, and business development for Calvert City.
While we may not be able to walk side-by-side, we can come together virtually to share our stories, support one another, and raise money to save lives. Nothing is more important than our community health and well-being, which is why we're going fully VIRTUAL! On October 17, Memorial Park will be everything pink. Get a small group of your friends or family together and walk the .5 mile Memorial Park loop at Memorial Park any time on October 17. Take photos at one of the many photo opportunities and tag Calvert City on Facebook and Instagram using #pinkwalkCalvertCity.
The Memorial Park loop is .5 miles and along the walking path will tell your stories. Luminaries are on sale for $10. Businesses can also sponsor the event by completing the luminary form. Forms are available at the link below. Please have all luminary forms submitted by October 9. Forms can be mailed to Calvert City Hall at P.O. Box 36, Calvert City, KY 42029.
Shirts are also available for purchase. The long-sleeve t-shirts are $20 and the short-sleeve t-shirts are $15. The form to order is linked below. 100% of the proceeds from the event will still go towards Kentucky Cancer Link. Kentucky Cancer Link funds many Kentuckians struggling with cancer. whether it be a wig, a cancer screening, or another need during a cancer diagnosis, they are here to help.