Tucked along Calvert City's Shar-Cal Road sits Clean Earth / HARSCO, a specialty waste company. They provide a vital resource not just for the city's industrial complex, but a wide range of companies that need a safe way to remediate, dispose, and recycle hazardous or non-hazardous waste.
"Many people thin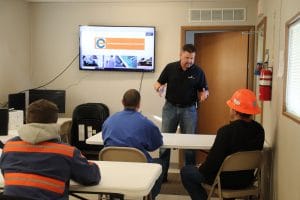 k we're a part of Waste Path, which isn't the case," said Richard Douglas, human resources manager for Clean Earth/HARSO. "We don't operate the landfill or any of its operations. We treat the products we receive by semi-truck, then move them on. We're simply neighbors to Waste Path."
Clean Earth has grown significantly over the years: both organically and through acquisition. This growth has extended its geographic reach and is moving them into new markets. Currently, they employ over 50 individuals and are looking to add additional team members in order to meet the growing demand for their services. "We want to hire individuals who are interested in building a career here," said Douglas. "That is why we take such care training our new employees and placing them into a department that best fits their skill sets. We want them to be successful."
The facility offers a strong training program that leads to multiple certifications in the first few weeks. Everyone who works at Clean Earth/HARSCO is classified as a facility technician and all have completed the same training program. Whether they work in maintenance, shipping/receiving, laboratory, or production everyone has the same basic skill set and commitment to safety.
"As the facility human resources manager, I think it's helpful for new team members to know that I started here, just like they will," he said. "I started on 3rd shift working Thursday – Monday. Again, just like they will. So as employees, we all know how challenging that can be. We also know that we can help them adjust to the schedule and rigors of the job. I know, just like everyone else who works here, that with time and hard work, anyone can build a long-lasting career here."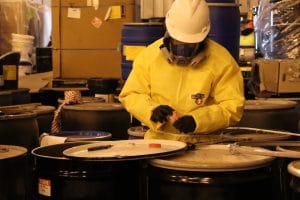 Douglas believes that one of the most important competencies applicants need is the stamina to work outside in all types of conditions, as the only area closed to the elements is their administration building. Additionally, he believes that if applicants demonstrate a willingness to learn, it will help them manage all the training expectations. Every day is different, but their mission is the same – have a safe working environment and a trusted solution provider in the waste and recycling industry. "We've got competitive wages and great benefits," Douglas concluded. "This won't necessarily be your first job, but it will be the first step into an industrial career. We want our company to grow and this community to grow. I encourage anyone who wants the same to visit our website and apply."
If you're interested in applying for employment at Clean Earth, click the link below: https://cleanearthinc.com/careers/available-positions