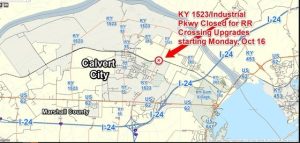 A contractor for P&L Railroad plans to close a section of KY 1523/Industrial Parkway in the Calvert City area of Marshall County starting Monday, October 16, 2023.
KY 1523/Industrial Parkway will be closed at mile point 7.7 to allow upgrades to a double railroad crossing.  The crossing is along the east leg of KY 1523 about 1/2 mile north of the East 5th Avenue intersection.
The rail crossing at this location will close promptly at 8 a.m., CDT, on Monday.  Due to excavations and placement of equipment required to facilitate the work, KY 1523/Industrial Parkway is expected to remain closed until sometime on the afternoon of Thursday, Oct. 19.
There will be no marked detour.  Motorists may self-detour via KY 262/Gilbertsville Highway, KY 95/Main Street, and U.S. 62.  Trucks should seek an approved state route based on their gross weight.
P&L Railroad and KYTC District 1 will attempt to provide timely updates should the work be completed earlier than expected.
To get traffic advisories and alerts for KYTC District 1 counties via email, please go to https://public.govdelivery.com/accounts/KYTC/signup/13651. Click on the District 1 counties you regularly drive through, or on any of the specialty corridors you travel.  Check your SPAM filtering to ensure Gov Delivery is on your approved list.
Timely traffic advisories for the 12 counties of KYTC Highway District 1 are available by going to www.facebook.com/kytcdistrict1. You do not have to be a Facebook member to access this page.
Navigate traffic at goky.ky.gov, at waze.com, or with the WAZE App.