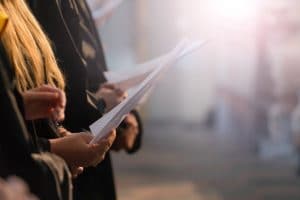 Calvert City, KY – (July 30, 2021) – A new community choir is being organized in Calvert City for people of all ages and abilities beginning September 9 at the Calvert City Civic Center.
The Community Choir will meet twice a month through November preparing for their first performance at the Calvert City Tree Lighting Ceremony on December 4 after the Lions Club Christmas Parade in Memorial Park.
"A group of people singing together, united by a love of music, creates a strong sense of community," said Blair Travis, director of marketing, communications, and business development. Participants do not have to have experience or be familiar with reading music. "This provides an opportunity for singers novice or experienced to have fun, meet new people, and create music."
Rehearsal time will be at 7:00 PM and last an hour. We ask all interested to bring a black three-ring binder to the first rehearsal for music sheets. If you are unable to purchase a binder, one will be provided. There is no cost to participate.
Scheduled rehearsal dates are as followed:
September 9
September 23
October 14
October 28
November 4
November 18
December 2
December 4 – Performance
Questions regarding the Calvert City Community Choir should call Calvert City Hall at (270) 395-7138 or by emailing info@calvertcityky.gov.