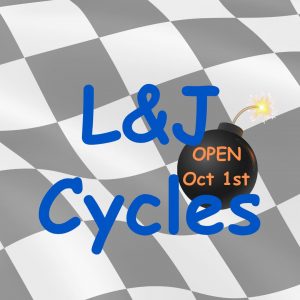 Calvert City, KY – Good news, Powersports enthusiasts: A new bike shop is coming to Calvert City in early October. L & J Cycles is your one-stop-shop for exceptional Powersports, parts, and accessories.
The dealership is located at 163 Kennedy Avenue, next to Cracker Barrel in Calvert City. The business plans to carry pre-owned dirt bikes, ATV's, motorcycles, scooters, parts, and accessories, as well as riding apparel, and premium technical service. "We want to help our local riders and hope to bring even more riders into the sport," said co-owner Heather Wiles.
Owners Travis and Heather Wiles grew up in Marshall County and have two children, Levi and Jacy, which is where the dealership gets its name, L& J Cycles. "We grew up riding four-wheelers with our fathers. Now we ride dirt bikes together. All four of us have one in the garage," said Heather.
The Grand Opening for L & J Cycles is planned for November 6. Travis and Heather said their goal is to bring the fun back to the sport. "We both grew up in family-owned businesses. Travis has dreamed of owning his own dealership since he was very young, and we finally have the opportunity to make his dream a reality," said Heather.
This husband and wife team has worked diligently to open their doors. "We chose Calvert City because of its central location. We wanted to stay in Marshall County and felt Calvert City was easily accessible to Marshall County and western Kentucky as a whole."
L & J Cycles is now accepting service appointments, call and book your appointment today at 270-909-3030. Doors officially open on October 1, however, the grand opening is set for November 6.
Follow L & J Cycles on Facebook for more information regarding their grand opening and be sure to visit their website by clicking here. Hours of operation will be Tuesday-Friday 8:30 AM – 5 PM, Saturday 9 AM – 4 PM, Closed Sunday and Monday.
Calvert City is excited to welcome L & J Cycles to our city. Getting people to enjoy the outdoors is one of our top city goals. Make plans to attend the Grand Opening and Ribbon Cutting on November 6!