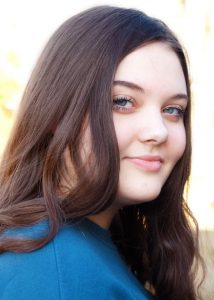 Calvert City, KY (February 8, 2021) – Calvert City's Youth Voice is a monthly writing contest developed for young authors between the age of 5 and 18. The first was the deadline for February and the winner is Kaylee Martin of Paducah, Kentucky.
Calvert Area Development Association used a rubric judging system to choose the February winner. "We received 35 submissions and they were all wonderful," said Blair Travis, Director of Marketing, Communications, and Business Development for Calvert City. Judges received the submissions with just the writings. They did not know how old the author was or where they were located.
Kaylee Martin is in 8th grade at Reidland Middle School. She loves to sing, dance, workout, and draw. Her favorite classes are writing and choir.
The next deadline for the monthly writing contest is March 1. Young writers are encouraged to submit original work in any style of creative writing. One winner will be awarded monthly.
Monthly winners will receive $50 and an ad in the Lake News with their published work. The deadline to submit work will be on the 1st of each month. This contest is not limited to Calvert City residents. We encourage writers from across the region to submit their original work.
For more information on Calvert City's Youth Voice, please call City Hall at 270-395-7138 or by email at info@calvertcityky.gov.
---
Disorders Don't Define
By Kaylee Martin
"I have schizophrenia. I am not schizophrenia. I am not my mental illness. My illness is a part of me." This quote is by a man named Jonathan Harnisch, and I agree with him completely. He knows that his disorder does not define him; it is only a part of him. I believe that this goes for all disabilities and disorders. I struggle with Psychogenic Non-Epileptic Seizures and anxiety. Imagine being treated differently for something you cannot control. It really hurts. I had to learn that I can't let those disorders decide who I am and what I can do in my life. I want everyone to know that no matter what you struggle with, you are not alone, and the challenges you face don't create who you are as a person.
First off, there are so many different types of disorders, and so many people in the world have disorders. In fact, Some examples of some disorders are anxiety, depression, dissociative identity disorder, ADD, PNES (psychogenic non-epileptic seizures), schizophrenia, bipolar disorder, PTSD, ADHD, and many more. Hannah Ritchie and Max Roser of Our World in Data state, "In 2017 this study estimates that 792 million people lived with a mental health disorder. This is slightly more than one in ten people globally." Being diagnosed with a disorder can make you feel alone and scared.
Furthermore, I can relate to what I am talking about. Having a disorder diagnosis can result in being treated very differently Although, sometimes being treated differently is good sometimes it can lead to hurt feelings. I have gotten my feelings hurt many times because I was being treated differently from everyone else. However, I could not help the fact that I continued to have psychogenic non-epileptic seizures so I started to feel alone. I tried to keep my head up high, and always tried to make everyone in the Emergency Room laugh. After lots of trials, paperwork, tests, ER trips, doctor's visits, and hospital visits, I was finally officially diagnosed. I know from experience that dealing with something that you don't see everywhere in your daily life is really difficult, and it can lead to anxiety and in some cases, depression. Many people from all over the world struggle with a vast number of difficult emotions, but a lot of people are blinded by their own pain. They can't see that they aren't the only ones struggling with the overwhelming feelings and emotions. I think of mental illness as a parasite. The parasite follows you around, it is attached to you, and it is a part of you, but it is not you.
Lastly, I would like to go deeper into what these mental illnesses can do to a person. When your mental health is declining it can physically hurt your body. A couple of times I have cried from pain all over my body from anxiety and it felt like I was vomiting a ball of emotions all over the place. I felt very scattered and confused. Some side effects experience from having a mental illness are extreme feelings of guilt, intrusive thoughts, becoming unmotivated, becoming very tired all the time, withdrawing from family and friends, extreme mood swings, reduced ability to concentrate, and body aches. These are not all of the side effects, and they go way deeper. Having extreme feelings of guilt can get in the way of life. When you get up every day just to feel guilty over nothing is painful and exhausting. This goes for all of the side effects of having a mental illness disorder. It gets in the way of life, but you can't let it control your life.
You are not alone. Many people all around us are the same. We shouldn't be defined and treated differently for the challenges we go through. We wake up every day to deal with those problems. All of the people who are already struggling to even wake up in the morning have to go to their workplace and deal with being treated differently than everybody else. We are all important in this life. You never know what someone is going through and the internal struggles they face on a daily basis, so it is extremely important to treat everyone equally and love everyone the same. Someone could be living through the worst year or day, and you could have either made it better or worse. You would want to make someone's life better wouldn't you? Sometimes it is easy to see when someone is struggling, but sometimes you never would have known. That's why it is very important for all of us to know and realize that we are not the only ones hurting. Even if you can't feel emotions anymore, somehow it still hurts. Please remember and know that if you are one who struggles with a disorder, the disorder doesn't define you. You still get up and tackle your day, you are brave and strong, and most of all, you are not alone. You are not defined by what challenges you face, and you are not defined by the feelings you create. You can make your own fate, and you can open your eyes to another day.