Local Pickleball players went to Jackson TN to compete in the Jackson Summer Classic on May 13-15.  This was a very well ran tournament under very hot weather conditions.  The competition was tough.  With 192 entries competing on 10 courts, 19 local players brought home 4 medals, all Gold.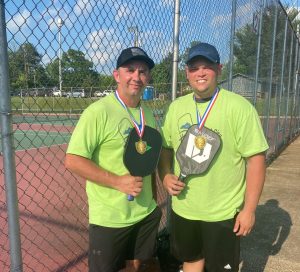 Gold Medal Winners:
Marvin Travis and Jacob Hill – 4.0 Men's Doubles
Jenny Travis and Leigh Toby – 3.5 Mixed Doubles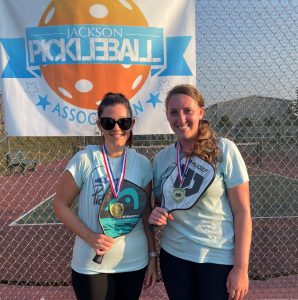 More results:
­­­­­­­­­­­­­­­­­­­­­­­Steve Shidal – 4th 4.0 Men's Singles
Marvin Travis and Jenny Travis – 4th 4.0 Mixed Doubles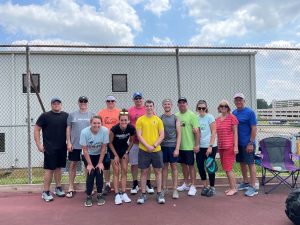 Pictured:
Front Row (L-R): Leigh Toby, Kayla Travis, Austin Nance.  Back Row (L-R): Jacob Hill, Jason Jones, Chad Winstead, David Darnell, Jaron Klassen, Marvin Travis, Jenny Travis, Suzanne Shidal, Steve Shidal.
More participants included:
David Darnell, Todd Dotson, Allie Gold, Sam Gold, Maury Greer, Jason Jones, Jaron Klassen, Austin Nance, Shann Riley, Suzanne Shidal, Kayla Travis, Scott Vaughn, JD Whirley, Chad Winstead
For more information on how you can get involved in Calvert City Pickleball, contact:
Darlene and Parvin Latta
USAPA Pickleball Ambassadors Marshall Co
270-703-4260