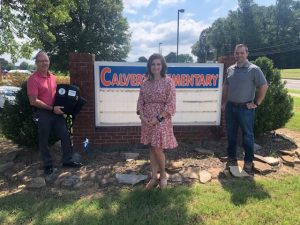 Calvert City, KY. (August 25, 2020) – The Calvert City Good Neighbor Night Committee met to discuss plans for the annual Good Neighbor Night event usually held in October. Due to the recent pandemic, the committee decided to cancel the 33-year event but through discussion, knew they wanted to find a way to utilize the already designated funds for the community.
In 1987, four Calvert City industries started Good Neighbor Night to present their Title III Emission reports and provide additional information about emission reduction and plant operation. Over the 33 years, Good Neighbor Night has become a staple event in Calvert City. Industries provide a wealth of information about their facility and production line and residents have the opportunity to address questions concerning plant operations and environmental and safety performance.
Because of COVID-19, drawing an annual crowd of 1400 people is not safe. However, the committee wanted to do something to give back to the community. The committee purchased sanitizing equipment for all of Marshall County schools and Livingston County schools. This equipment can sanitize rooms quickly and easily by distributing a fog.
Director of Operations at Estron Chemical and City Councilmember, Gene Colburn, along with Jeremy Rowe, Engineer for Arkema and City Councilmember, presented Calvert City Elementary School Principal, Kendra Hackney Glenn with the sanitizing equipment just in time for school to start.
Calvert City would like to thank the Good Neighbor Night Committee for their forward-thinking and continued commitment to our city.