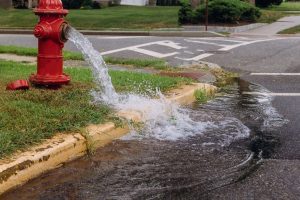 For the benefit of public fire protection, Calvert City Utility will be maintaining and flushing all fire hydrants in the area. Work will begin on May 15.
Hydrant flushing is the quick release of water from fire hydrants. It's a controlled procedure that is vital to the general maintenance of the City's water distribution system. It ensures adequate water flow is available to firefighters, residents, and businesses. It also improves water quality.
Sometimes hydrant flushing can make the water temporarily appear rust-colored. If this occurs, please run your cold water for several minutes to clear your lines. You should also flush your toilets once or twice. The water should run clear within a few minutes but may last until the hydrant flushing stops. Please run cold water to protect your stored water within your hot water heater.
Questions? Call Calvert City Hall at (270) 395-7138.