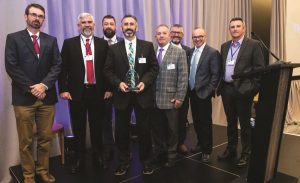 Lexington, KY. – The Kentucky Association of Manufacturers (KAM) announced the 2022 Manufacturer of the Year and Manufacturing Employee of the Year Award Winners at KAM's Manufacturing Awards Luncheon this afternoon in Lexington.
 "Manufacturing is a critical part of the Kentucky economy, not only sustaining high-wage, family-supporting careers and contributing billions to our economic growth but also providing the tools and technology that ensure Kentucky is an economic leader," said KAM President and CEO Frank Jemley. "We are proud to recognize these individuals and companies for their impact on the state."
 The 2022 Manufacturer of the Year Awards presented by Brown-Forman Corporation winners are:
 Hallway Feeds, 2022 Manufacturer of the Year, Small Manufacturer Category
Evonik Corporation, 2022 Manufacturer of the Year, Mid-Size Manufacturer Category
Toyotetsu, 2022 Manufacturer of the Year, Large Manufacturer Category
 "We congratulate the winners of the 2022 Manufacturer of the Year Awards and thank them for their contributions to Kentucky's economy. Having these companies in Kentucky showcases how much manufacturing means to our Commonwealth," said Dan Naes, Director of Brown-Forman Distillery Operations.
Located in Calvert City Kentucky, Evonik Corporation specializes in developing chemical catalysts used in the petrochemical, pharmaceutical, agrochemical, and refining industry.
 An example of innovation and leadership at Evonik is the recently created POST program. A site-wide initiative to provide a fun way for employees of all levels could make suggestions and call attention to good safety practices.  This program has successfully raised employee engagement and initiated a significant shift towards a safety mindset and culture.
 In addition to regular contributions to local community organizations, Evonik Corporation recently started a program available to all employees for 1-day of paid volunteer time off to serve in the local community.  During the early stages of the COVID-19 pandemic, Evonik also played a vital role in providing essential products, equipment, and technical support in the production of hand sanitizer.
 Evonik Corporation employee JR Reynolds is an important advocate for manufacturing in western Kentucky as a founding member and current board member of Kentucky Lake Economic Development.
For their dedication to continuous improvement, innovation, and safety as well as their continued investment and support of the community we are pleased to present Evonik Corporation with the 2022 Manufacturer of the Year Award in the mid-size company category.
###
Laura Brooks
Communications and Marketing
Kentucky Association of Manufacturers
PO Box 4029 
Frankfort, KY 40604-4029
Mobile:  606.584.4572
Visit us at KAM.us.com