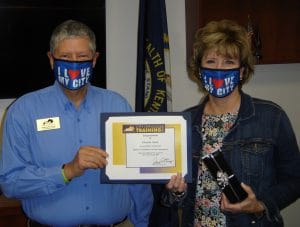 Calvert City, KY – Glenda Adair and Crystal Douglas were among over 50 city officials from across the state recognized by the Kentucky League of Cities (KLC) this year.
Glenda Adair, Calvert City Clerk/Finance Operator, received the Level II COTC Award – Excellence in City Governance. The Level II – Excellence in City Governance award requires the city official to attend 60 hours of approved training with two hours of ethics training.
"The COTC program provides a variety of training that better equips our city leaders across the state to serve their local communities. With this achievement and the amount of training it represents, citizens are the real winners because our communities are reaping the benefits of better-informed leaders,"  said J.D. Chaney, KLC Executive Director/CEO. "This is an impressive feat and a testament to the dedication of these city officials."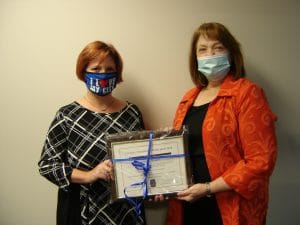 Crystal Douglas, Deputy Clerk for Calvert City, is now a Certified Kentucky Municipal Clerk. Douglas wanted to learn more about being a clerk and find better ways to do her job. With this certification comes more responsibilities and she was happy to step up to the plate.
The class lasted three years and teaches anything from being a better manager, handling stress, calculating property taxes, customer service, different legal regulations & concepts, and preparing for audits, etc.
Congratulations, Glenda and Crystal!