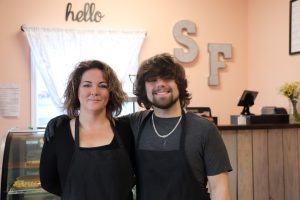 Southern Fried and Sweet Tea, a new restaurant specializing in soul and comfort food, is now open on 5th Ave in Calvert City.
"We wanted to focus on a southern fried deal and nothing is frozen. Everything is hand-cut, hand-breaded, and cooked from scratch," said Brandon Myrick.
Owners, Betty and Paul Myrick's family have always owned the property. "Paul and I both have about 50 years combined in the food industry and we decided as a family to open a restaurant," said Betty Myrick.
The restaurant is located at 830 5th Ave in Calvert City. Closed on Monday, restaurant hours are Tuesday- 10:30 am – 2:30 pm, Wednesday- 10:30 am – 2:30 pm, Thursday- 10:30 am – 7:30 pm, Friday- 10:30 am – 8:00 pm, Saturday 11:00 am – 8:00 pm Sunday 11:00 am – 4:00 pm.
Myrick said that most of the recipes are created by her, Brandon, and Paul. "The hushpuppies are my grandmother's recipe; we serve my grandmother's peach cobbler and some of her pies. We gathered the whole family and tried to create something special," she followed.
Inside the restaurant is Tiny Cakes Emporium, a cake shop with specialties like cupcakes, fudge, candied apples, and pies. It is dedicated to Myrick's nephew, Matthew Penick who passed away after his third battle with cancer. "It was my nephew's dream for my daughter, Heather, and Matthew to open the Tiny Cakes Emporium, but he died before we could get it opened," said Myrick. When you walk in, the space to the left is dedicated to Matthew.
You can eat in or order takeout, order a staple off the menu or choose from a daily special. Daily specials are listed on the restaurant's Facebook page, Southern Fried & Sweet Tea.
Brandon said his favorite item on the menu is the steak. "It's the best steak I've ever had and I've tried some nice steaks, he said." Betty thinks her favorite is the country-fried steak. The atmosphere of the restaurant is expected to make customers feel like they are surrounded by family at home.
For more information, call the restaurant at (270) 909-1200 or visit their Facebook page.