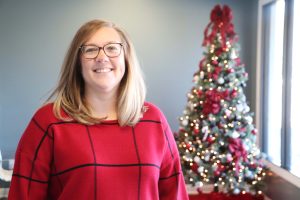 Hilary Washer opened a new State Farm Insurance office in Calvert City, Ky this month. The office is located at 80 E 5th Ave.
Washer has worked in insurance for 10 years. She was a team member with State Farm Agent, Tina Loomis, in Cadiz and she knew she wanted to continue working for State Farm, but she didn't want to leave Western Kentucky. "I have been waiting for the perfect opportunity and Calvert City was it," said Washer.
Born and raised in Trigg County, Washer comes from a very large family. "my mom was one of seven and my dad is one of eight. I love spending time with them," she followed. Washer has four children, two of which are still in high school, and one grandchild. "My family has fallen in love with the restaurants in Calvert City Calvert City is beautiful and everyone has been so friendly."
State Farm provides insurance for autos, motorcycles, ATVs, UTV, campers, motorhomes, renters, homeowners, condo owners, Personal Articles Policies, Personal Umbrella Liability Policies, business insurance, Trupanion Pet insurance, life & health insurance. State Farm also offers financial services with Jackson Annuities, investments & 401(K) rollovers with BlackRock & American Funds & home mortgages through Rocket Mortgage. We are a one-stop shop for most of your insurance & financial services needs.
For more information on how to learn more about State Farm Insurance, call Heather Washer at (270) 527-8658.