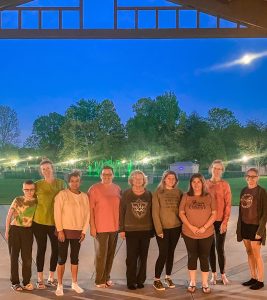 Calvert City is providing free beginner yoga classes for the community every Monday and Saturday. Take part in the indoor yoga sessions at the Calvert City Civic Center or join outdoor classes in the city parks during warmer months.
The class is free and open to the public. School-age children must be accompanied by an adult to participate. Classes will be held on Saturday mornings at 8 a.m. and Monday evenings at 6 p.m. in the Calvert City Civic Center. In the warmer months, Johnson plans to move outdoors to Calvert City Memorial Park.
Yoga is unlike any other workout, Johnson said. She believes yoga can strengthen the immune system, relieve stress in the body, and calm the mind allowing better sleep and feeling better overall. She has experience helping participants adapt to their comfort level and it is her goal for everyone to benefit from these classes no matter their experience. "I love being forced to slow down and being able to push my body to its limits," said Johnson.
Beginning February 23 classes will move from Tuesday to Monday nights. Saturday will remain the same. "Monday nights at 6 p.m. will be a more strength-based session and every Saturday morning will be more relaxed and meditative, yet energizing. However, each class is designed to meet you exactly where you are in your wellness journey. "We will accommodate all skill levels by teaching modifications for those who need them and more advanced poses for those that want them. Everyone's practice may look different but this allows us to all come together as a community," she followed.
There is no pre-registration for the classes which are free to the community. Yoga mats will not be provided; participants are required to bring a yoga mat to each class. For more information call HealThy Self at (270) 349-4652.
…And don't forget your water!