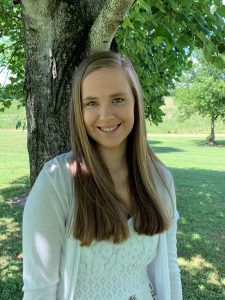 Calvert City, KY (November 5, 2020) – Calvert City's Youth Voice is a monthly writing contest developed for young authors between the age of 5 and 18. The fifth was the deadline for November and the winner is Ashley Sullivan of Paducah, Kentucky.
Calvert Area Development Association used a rubric judging system to choose the November winner. "We received 26 submissions this month and they were all wonderful," said Blair Travis, Director of Marketing, Communications, and Business Development for Calvert City. Judges received the submissions with just the writings. They did not know how old the author was or where they were located.
Sullivan is a sophomore at St. Mary High School. She is 15 years old and plays volleyball both for her school and a travel team. Her favorite teacher is her World Civilizations teacher, Mrs. Marshall because she makes learning about history exciting. She spends most of her time playing volleyball or spending time at the lake.
The next deadline for the monthly writing contest is December 1. Young writers are encouraged to submit original work in any style of creative writing. One winner will be awarded monthly.
Monthly winners will receive $50 and an ad in the Lake News with their published work. The deadline to submit work will be on the 1st of each month. This contest is not limited to Calvert City residents. We encourage writers from across the region to submit their original work.
For more information on Calvert City's Youth Voice, please call City Hall at 270-395-7138 or by email at info@calvertcityky.gov.
__________________________________________________________________________________
ODE TO QUARANTINE
By: Ashley Sullivan
It was the day of March 15
And all seemed like a normal day.
I was cleaning out my locker
With the orders not to stay.
I had settled down with my things at home
Not knowing what would come next,
When all of a sudden I realized
I would be receiving lots of emails and texts.
Now I know that all this sounds nothing but doom and gloom,
But things started to look better when I became familiar with an app called zoom.
I have come to realize during these calls,
I am more independent at home
And even though I may look shy,
I don't need people to help me out except on Google Chrome.
As I stressed through it all trying to figure it out,
I found people who were willing to help me out.
Many people have changed throughout this pandemic
And we have even become more academic.
I've learned I'm more relaxed doing work away from school,
And that it's easier to be away from people
Even though that might not sound as cool.
When I thought that my family couldn't get any more annoying,
Quarantine showed me up and made their company less enjoyable.
There are a lot more fits that my younger sister is throwing.
With a BANG! of her door, more stress we are undergoing.
Even though I have these crazy people to live with,
Some people in my family don't.
My grandparents have gotten very lonely
So I decided to write them a note.
I said that I missed them and they mean the world to me,
And that all this will soon be over and back to their house I would be.
There is much more going on in the rest of the world
That I often tend to ignore,
But sometimes I will go watch the news and see that there is more.
They keep everyone very updated even when it doesn't seem good,
But there are lots of people who are doing all they think they should.
Like John Krasinski, there are some people on the media who are more focused on the good things.
Instead of thinking only on the negative, they're highlighting all the good that this quarantine brings.
When I watch these videos and see this happening, they all make it look as easy as pie.
But everything isn't that easy and makes our expectations way too high.
Some of the media is biased and one-sided
And lots of people are not happy about the news they have provided.
I have also learned that there is much information about this virus that is not correct,
And that has created a big effect.
It has shown that these reporters are clearly confused
About all these lies that they have decided to use.
Even though people use the saying, "Time flies when you're having fun,"
I still think life will be best when this quarantine is done.