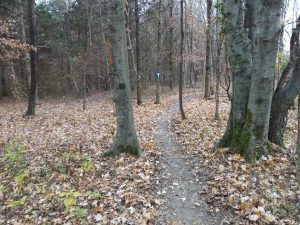 Calvert City invites the public to attend the official ribbon cutting for the new single-track trail in Doctor's Park.
This new single-track trail can be utilized for hiking, running, and mountain bike use. It is located just off the multi-use trail in Doctor's Park. Calvert City residents Steve and Dache Moneymaker have been instrumental in developing this three-mile beginner-level trail. Remarks will begin at 4:00 PM at the trailhead located behind Calvert City Hall.
The beginner trail stemmed from a feasibility study completed in 2019 by the International Mountain Biking Association. During their in-person interviews, the high school mountain bike team said there was a need for beginner trails in the region. Calvert City had 25 acres available adjacent to Doctor's Park and with locally skilled trail builders and small assistance from Calvert City Public Works, the trail was developed. There is a little over 3.25 miles of dirt trail developed with plans to create an access path from Calvert Elementary School so students can utilize the trail easier.
Riders are encouraged to get on the trail and ride to "break in" the new trail. "The high school team has been on the trail and the trail provides a great introduction to mountain biking," said Blair Travis, director of marketing and business development for Calvert City. "This helps build confidence for riders to eventually ride at Bo Beckett and in Land Between the Lakes."
Riders, runners, and walkers are encouraged to enjoy the new trail and utilize Strava. Challenges will be set up for some friendly competition along the trail through the Strava app.
For more information call Calvert City Hall at (270) 395-7138 or email info@calvertcityky.gov.