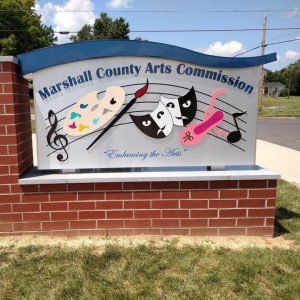 In July Marshall County Arts Commission presents Shakespeare's Macbeth in Calvert City Memorial Park for Marshall County's first Shakespeare in the Park event. Bring a lawn chair or blanket and enjoy a performance under the stars.
The idea of "Shakespeare in the Park" came from discussions about bringing this genre to Marshall County. Several volunteers and Ruth Morris, Marshall County Arts Center executive director, were familiar with similar programs offered in Kentucky, and when Eryn Pritchett offered to direct – the rest was history. 
"Eryn Pritchett is a local Marshall County resident with a rich background in history and performing arts," said Morris. Prichett holds a Master of Arts in Classics with an emphasis in Ancient Theater from Notre Dame and is currently working on her Ph.D. at Murray State University in History. 
All performers in MacBeth are high school, college, and adult residents of Marshall County with one individual from Graves County. "Community theater can bring together local talent which creates a sense of community and during the performance, the audience becomes a part of that shared experience which improves the quality of life in our city," said Blair Travis, director of marketing and business development for Calvert City. "Partnering with Calvert City is important – it helps both reach a larger audience and combines resources. Calvert City's amphitheater is a perfect location for 'Shakespeare in the Park' and we hope this is the beginning of an enduring tradition," said Morris. 
Macbeth is Shakespeare's shortest tragedy (some say due to King James' short attention span) and reflects the relationship Shakespeare had with King James, the former ruler of Scotland.  The play demonstrates the spiraling damaging effects of political ambition.  A Scottish general – Macbeth – receives a prophecy that he will become King of Scotland.  Macbeth, spurred on by his wife, Lady Macbeth murders King Duncan and assumes control of the country.  Guilt overcomes him, and more evil ensues in order to protect himself.  Soon, a civil war evolves, and Macbeth and Lady Macbeth are consumed by madness and death.
The performance will be held on July 23 and 24 in Calvert City Memorial Park beginning promptly at 6:00 p.m. and is free and open to the public. Please arrive at least twenty minutes prior to the start of the play. 
For more information call Marshall County Arts Commission at (270)252-7022.  
_______________________________
Ruth Morris was named executive director of the Marshall County Arts Center in January 2022.  Morris brings to the center a wealth of experience in the arts, as well as a history of non-profit and business experience from her former residence in Tampa, Florida.  A retired band director, Morris remains active in teaching piano and voice at the arts center.  Morris has worked hard to take the foundation already established by the Arts Commission over the past dozen years and take it to the next level.  "We want the Marshall County Arts Center to be a vibrant place where the fine arts are celebrated and embraced – – – and accessible to all," Morris stated.  
The mission of the Marshall County Arts Commission is the develop an appreciation in the community for the cultural heritage of the arts; to offer support, encouragement, and opportunities to residents involved in the performing and visual arts; and to educate the community in the arts through a balanced exposure to all arts disciplines.