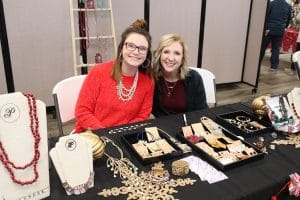 The Calvert City Christmas Bazaar is a fundraiser for the Calvert/Sharpe Family Resource Center and is hosted by Calvert Area Development Association and Lakeland Event Center.
Each year, the Calvert City community gathers together to kick off the Christmas season. "It's the perfect time to get those personalized gifts for those on your Christmas list," said Blair Travis, director of marketing and business development for Calvert City. "This event highlights our town and gives opportunities to local entrepreneurs to showcase their business."
This year the bazaar has had an overwhelming amount of interest with local arts and craft vendors. Over 100 vendors will be ready to sell at three different locations in Calvert City.
The Christmas Bazaar begins at 9:00 AM at the following locations: Calvert City Civic Center, Lakeland Event Center, and Altona Baptist Church.
Stop at each location and check off booths on the vendor form to be entered into prizes donated by the vendors and CADA. Lakeland Event Center will be raffling off a beautiful quilt. All proceeds from the event will be donated to the Calvert/Sharpe Family Resource Center.
Make plans to attend this exciting event in Calvert City from 9:00 AM – 4:00 PM. For more information, visit calvertcityky.gov or call Lakeland Event Center at (270) 906-0166.