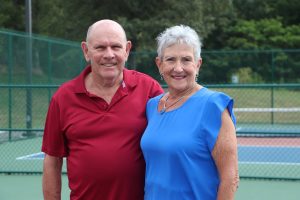 Calvert City, KY (June 19, 2023) – Parvin and Darlene Latta of Calvert City, have been selected as Grand Marshal for the Ameribration parade on July 4th in Calvert City. The parade kicks off at Hwy 95 and 5th Avenue beginning at 6:00 p.m.
After graduating from the University of Kentucky as a chemical engineer, Parvin was hired by Air Products where he retired after 33 years. Darlene worked at BFGoodrich for 12 years and retired from CCMA in 2007.
Originally from Henderson, Kentucky, Darlene and Parvin have called Calvert City their home for 52 years. Their son, Chad Latta, and two grandchildren, Halee and Payton live in Calvert City. Chad was a state, regional, and national competitor in slalom, trick and jump water skiing. Parvin was a regular boat driver and Darlene was a senior scorer for the American Water Ski Association (AWSA). After their son hung up his skis, the couple enjoyed spending time on Kentucky Lake and traveling.
In 2014, while in Florida, Darlene and Parvin saw a couple from Canada playing something on part of the tennis court. They were familiar with racquetball and tennis but didn't know anything about this game called Pickleball.
"We bought a couple of wooden paddles and some balls. Every year we would go back to Florida and play Pickleball. There wasn't anywhere in our area that played this crazy-named game.  In 2016 our church, Calvert City First Baptist Church, was renovating the gym and we thought we might be able to put in two courts. Paster Brother Jim Ewing was very receptive to the idea. We bought a net, some balls, and a few wooden paddles and taped off one of the courts." – said Darlene Latta
In 2017, the Lattas attended a city council meeting requesting the tennis courts be marked for Pickleball with a handful of people playing in Calvert City. Flash forward to 2022, Calvert City now has 4 dedicated pickleball courts in Doctor's Park and a Calvert City Pickleball group with over 400 members.
"The Lattas brings so much life to Calvert City parks with Pickleball. It's a game that no matter the age, can be fun. When Calvert Area Development Association (CADA) was selecting the Grand Marshal, we knew it had to be the Latta's," said Brittany Story, CADA President.
June 23-25 is the first pickleball tournament in Calvert City. Over 170 are registered to play on the new courts and with the leadership from Parvin and Darlene, the Calvert City Summer Slam is surely to be a great success.
From 2014 to 2023, Darlene and Parvin taught over 100 people how to play Pickleball, not just in Calvert City, but to tourists just passing through and many in our region. As of late 2022, there are over 110 recreational players and 40 tournament players in Calvert City. "We chose to live in Calvert City because it was close to work, but we continue to choose Calvert because of the small town feel with all the amenities and of course, pickleball," said Darlene.
If you would like to enter a float, please be at Pathway Baptist Church by 4:45 p.m. There is no pre-registration. Judges will award 1st, 2nd, and 3rd float and Best Decorated Golf Cart. The parade theme is Waves of Freedom and selected in hopes that floats will incorporate Kentucky Lake and America-themed floats. Free watermelons will be distributed by the Calvert City Lions Club and Calvert Area Development Association after the parade in Calvert City Memorial Park.