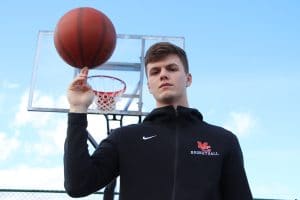 Meet Tyler Stokes. Tyler and his family moved from Graves County to Calvert City when he was in 2nd grade. Living in Calvert City, he spent his nights with his brother playing basketball during the summer at the Calvert City basketball courts and began his love of the game.
In August, Tyler will be headed to Quincy University to play basketball for the Hawks. "I looked at other colleges and decided Quincy was the best fit for me. I feel that I can play and grow there as a player and a student-athlete and the coaches made me feel at home," said Tyler.
Quincy is a private liberal arts university in Quincy, Illinois. It was founded in 1860 by Franciscan friars and has a total undergraduate enrollment of 1,087 students. Quincy is a member of NCAA Division II and has been a part of the Great Lakes Conference for most sports since 1995.
Tyler said he knew at a young age he wanted to be a college athlete. Between football and basketball, It became clear the summer before his senior year that he could have a future in basketball. "Both my mom and dad played sports in college and both have college degrees. Getting to play the sport I love makes the college experience even better." He plans to major in management science.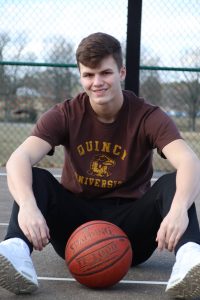 Tyler gives credit to his dad, Jeff Stokes, for helping him learn the game of basketball and develop his skills. "He actually taught me how to shoot even though it was my mom that was the shooter and he was the defensive player in their day. He pushed me to limits I didn't know I had. He has guided me along the way and I am grateful for him," said Tyler.
There wasn't a moment or bell that went off when Tyler knew he could play at the next level. "I wanted to play college ball so I pushed myself and worked on my game so I would be prepared for the chance to play at the next level." He emphasized that kids should not think everything is handed to them. "Go for it and work hard. Go get what's yours. You only get out what you put in," he said.
Tyler has many mentors in his life, but one stands out above them all. "Corey Jessup, owner, and trainer at Lake Barkley Crossfit helped me get my body where it needed to be to perform at the next level. I have big plans this summer to train with Cory before leaving for Quincy."
Calvert City is proud of Tyler and the entire graduating class of 2020. Although routine events have been altered, the importance of education hasn't changed. We're proud of you Tyler! Calvert City will be cheering you on in the fall. Go Hawks!