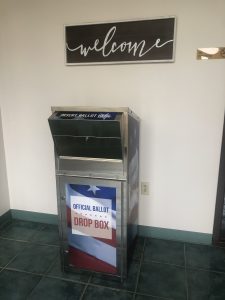 Because of the recent pandemic, Marshall County Clerk Tim York is asking voters to vote by mail if possible. Kentucky's Primary Election has been moved to June 23rd and precincts will not be open on Election Day.
There will be only one voting location on the day of the Primary Election. This will be located in the upper lobby of the gym at Marshall County High School from 6AM-6PM. Any eligible county voter can cast a ballot at the high school location.
Marshall County is offering an alternative solution for Vote by Mail voters to easily and securely drop off their ballot in-person. The ballot drop box is located inside Calvert City Hall. City Hall is open from 8:00 AM – 4:00 PM Monday-Friday. Surveillance of the ballot box is being monitored by the Calvert City Police Department.