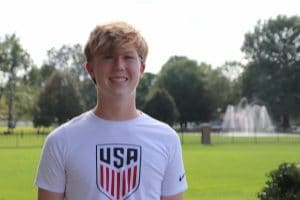 Calvert City, KY (September 11, 2020) – Calvert City's Youth Voice is a monthly writing contest developed for young authors between the age of 5 and 18. September 5 was the deadline for September and the winner is Jackson Boone of Calvert City.
Calvert Area Development Association used a rubric judging system to choose the September winner. "We received 16 submissions this month and they were all wonderful," said Blair Travis, Director of Marketing, Communications, and Business Development for Calvert City. Judges received the submissions with just the writings. They did not know how old the author was or where they were located.
Boone grew up in Calvert City. He enjoys reading about history and playing soccer. He is a junior at Marshall County High School. His favorite teacher is Mrs. Tessa Powell. Boone loves to travel. He has visited 41 out of the 50 states with plans to check off a few more this year. His favorite place to visit so far is Canyonlands National Park in Utah.
The next deadline for the monthly writing contest is October 1. Young writers are encouraged to submit original work in any style of creative writing. One winner will be awarded monthly.
Monthly winners will receive $50 and an ad in the Lake News with their published work. The deadline to submit work will be on the 1st of each month. This contest is not limited to Calvert City residents. We encourage writers from across the region to submit their original work.
For more information on Calvert City's Youth Voice, please call City Hall at 270-395-7138 or by email at info@calvertcityky.gov.
—————————————————————————————————————————————
A PRINCIPLED LIFE: John Sherman Cooper
By: Jackson Boone
Despite its small size, Kentucky is known for the quality and caliber of politicians it produces. Henry Clay, Abraham Lincoln, Jefferson Davis, and Alben Barkley all hold places in our history. While history has remembered these giants, it has forgotten one who played an equally important role in his time: John Sherman Cooper. A drive through the Bluegrass state would yield Barkley Lake on the far western edge, an obelisk and heritage site commemorating Davis and Lincoln respectively in Central Kentucky, and countless references to Clay farther east. Yet, hardly any mention remains of the Senate great who served for almost thirty years in public life. Though he served in many different capacities throughout his life for the sake of time only his acts in the Senate will be highlighted and examined
Born in Somerset, Kentucky, Cooper would later serve as a county judge in his hometown and his time on the bench would shape many of his decisions in the Senate. He would also develop his characteristic humility and deliberative thinking, during this time, that he would carry with him all his life. In fact, John Pearce, a journalist at the time, was quoted as saying, "He is not a dramatic speaker. His delivery is halting, low. He violates all the rules… Yet to all of this there is agonizing sincerity in the sad, soft smile." This natural sincerity would attract the people of Kentucky, then very much a Democratic stronghold, to vote Cooper, a Republican, to the Senate four times. His Senate career would span the Red Scare, the Civil Rights Movement, and the Vietnam War. In each of these events, Cooper took principled stands often against the mainstream thought of his party, the media, and even his constituents.
Cooper's experiences in the Senate can be summed up in a story during his freshman term. Senator Robert Taft (OH-R) approached Cooper after a vote, leaned over him, and questioned, "Are you a Democrat or a Republican?" Cooper unfazed responded, " I was sent here to represent my constituents and I intend to vote as I think best."One of his most prominent breaks with the party came at the height of the Red Scare in the 1950s. With Senator Joseph McCarthy (WI-R) accusing suspected communist sympathizers every day, there was a growing hysteria across the country. Republican Senators were rushing to get in line with party leadership to ensure they themselves would not be labeled a traitor. Pressure from across the nation was overwhelming, but Cooper stood firm. He expressed extreme caution and reprimanded Senator McCarthy for his blind accusations. His voice within the Republican Party helped the Senate eventually vote to censure McCarthy. When the public's will was to tear down the accused, Cooper denied it and instead turned the tide of opinion. His perseverance shown through the dark days of the Cold War and would set him on course for a historic career in the Senate.
His next act of principle would not come with a break in the party but with some of his constituency. By 1964, the Civil Rights Movement was in full swing as well as the competing Southern filibuster. Despite thousands of letters from Kentuckians and re-election on the line, Cooper lobbied Senators to oppose the filibuster. When asked about his decision Cooper said, " I not only represent Kentucky, I represent the nation, and there are times you follow, and times when you lead." Lead he did. Cooper tirelessly introduced anti-discrimination bills to the displeasure of some back home.
Due to his principled stands, Cooper became an influential and respected member of the Senate. John F. Kennedy would be quoted saying to his brother Robert, "If an issue comes up before that body and passions are aroused and voices are high if you really want the unvarnished truth go to John Sherman Cooper and you will receive it."
Finally, Cooper turned his focus and influence to the issue of demilitarization in Vietnam. The Cooper-Church Amendment was proposed by Cooper and Senator Frank Church (ID-D) in 1970. Republicans and Democrats alike would have to set aside their differences and work together to end the war. Presidents Johnson and Nixon would only ramp up rhetoric and troop involvement, while no consideration of de-escalation was entertained by either administration. Despite labels of weak-mindedness from his own party and the media, Cooper fought constantly for the passage of the amendment. In the end, it was defeated but Cooper's prestige brought national attention to the issue, and a movement was started. The changing tide of public opinion forced the administration to reconsider the strategy in Vietnam, before finally deescalating the situation. In the defeat of his amendment, there would be the ultimate victory for the country.
Cooper's legacy was long-lasting and was felt across the nation. His deliberative thinking, independence, and principled stands influenced his every decision even when it was against his constituents, party leadership, or the media. There was no one defining moment in Cooper's career. Instead, it was repeated acts of principle throughout his tenure that defined his service. His independent positions on a variety of issues solidified his standing as a courageous Senator who, in his own words, was " a country fellow who'd merely tried to learn his lessons well.
Despite his day has long gone and passed there are still lessons we too can learn from Senator Cooper. Heightened tensions marked both his time in office and the present day. Throughout it all, he approached every problem with his signature deliberative and independent thinking. Approaching the issues of the modern world the same way would honor Senator John Cooper more than any monument ever could.